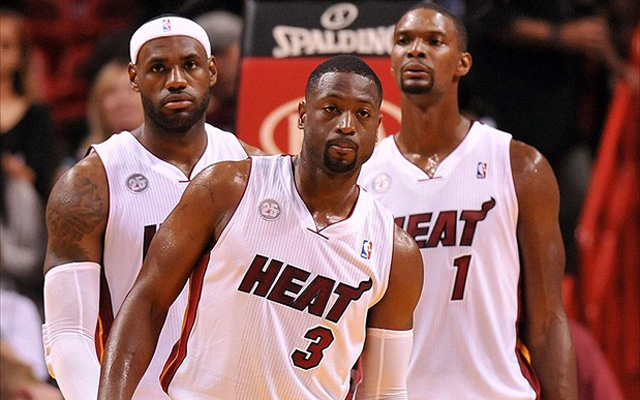 When it comes to the future of the Miami Heat franchise 2013-14 will prove to be the most important year yet. Coming off back-to-back championships, and with most of their players remaining, the Heat seem poised to win another championship. The Heat would become only the 4th team to achieve this feat after the NBA-ABA merger in 1976. LeBron James is coming off back to back MVP's, and has lifted the trophy 4 of the last 5 times it was awarded. The unquestioned best player in the league is in the midst of his prime and is looking to reach even greater heights this coming season. Dwyane Wade has seen his scoring output decline each year since he won the scoring title in 08-09, and has dealt with well chronicled knee injuries that hindered him throughout most of the 2013 playoffs and especially in the finals. The most famous third wheel in sports, Chris Bosh, has also seen his production drop each year since coming to the Heat. The 20 and 10 threat coming out of Toronto peaked at 18 and 8 during his tenure in Miami. All three are coming up on contract years, and each of them individually might take advantage of the year to prove themselves, if not for a chance to stay then definitely for a chance to earn a nice paycheck elsewhere.
LeBron has proven himself to be the most important cog in the Heat's system. The back to back MVP and finals MVP is the most skilled player in the NBA, and approaches the doorstep of history's door as he attempts to three-peat in both of these categories. There are many options for the king after this season, Lets break them down:
1. LeBron has a player option for the 2014-15 season, which he will likely only choose if there's not an offer on the market that he is willing to pursue
2. James can test the free agent market, where he is already drawing interest from the Cleveland Cavaliers, New York Knicks, and the Los Angeles Lakers. This is the most likely instance
3. LeBron can remain on the Heat for the remainder of his contract without restructuring or testing the free agent market until the end of the 2016 season. This scenario will not happen under any circumstance, just wanted to let you know it was possible.
Once the LeBron domino drops, the decisions get a lot easier for other members of the Heat. Dwyane Wade, franchise darling and former no. 5 overall pick back on '03 will likely remain with the Heat for the rest of his career. He has no real reason to leave and pursue opportunities on other teams as he has won his fair share of championships and has the admiration and love from a dedicated fan base. Wade has stuck around through the good times and the bad. From being Finals MVP in 2006, to winning only 15 games during the 07-08 season. Also, let's not kid ourselves: it's pretty evident that is "three" is going to continue to have knee problems; his years in the league are numbered.
Chris Bosh is a totally different story. At the end of the 2013-14 seasons it is possible that he could be a three time world champion and be officially deemed the most overqualified third string in NBA history. He was a sure all-star during the time he spent in Toronto averaging 24 points and about 11 rebounds in his final year before joining the Heat. It would most likely be in his best interest to opt in, because the money he would make next season and for the remainder of his contract with the Heat will most likely be more than what he will be able to earn elsewhere except, you know.. Charlotte. With Greg Oden returning to NBA ball and Chris "Birdman" Andersen having a full off season to train and learn even more about the Heat's system, it will be an excellent opportunity for Bosh to get back to playing the 4 position where he thrives.
Now on to the other guys, specifically the older guys Ray Allen, Shane Battier and Rashard Lewis. All have hinted at retirement at the end of the 2013-14 season as they all have expiring deals. At 38, 35 and 34 respectively, they have cemented themselves as great sources of veteran leadership within the Heat's locker room. Not only do they act as the grandparents of the squad, they're pretty productive on the court as well. As recent as games 6 and 7 of the finals we find the immortal shot by Ray Allen that pushed game 6 into overtime, and during game 7 we watched Shane drain 3 after 3. If they can remain at last season's level of effectiveness the Heat will have nothing to worry about as far as bench positions go. Without their presence following this season who knows who will be there to fill their roles. After all, most of the Heat's success comes from the fact that everybody knows their roles.
A few new members were added, and re-added to the Heat squad this off season as Greg Oden and Michael Beasley join the roster. These moves can either turn out very well or very, very bad. Let's take a look at the optimistic approach where Oden plays sparingly throughout the regular season, gets back into game shape by late season/ playoffs, and is healthy enough to fight off bigs such as Roy Hibbert, Tyson Chandler and Brook Lopez. In this dream scenario we also see a rejuvenated Beasley who, driven to perform like never before, becomes a legit scoring threat from mid-range, quits his questionable off the court antics and hopefully doesn't bring good buddy Mario Chalmers down in a fiery shame spiral with him.
Then we have the scenario that no Heat fan wants to hear and what every other NBA fan wants to hear. The scenario where Oden plays mostly meaningless minutes all season, is either ineffective or is re-injured and proves to be a wasted roster spot. In this nightmare-ish scenario Beasley can't kick his drug habit, becomes a nuisance within the locker room which takes focus away from winning, and single-handedly becomes the downfall of 2013-14 season.
Let's forget I mentioned that… Man, I wish I never mentioned that.
This upcoming season will most definitely be one of the most exciting seasons from any professional sports team ever. There is so much history to be made, legacies to cement (we'll show you, Kevin Durant!), and milestones to achieve. You won't want to miss a minute of Heat basketball this season, and if you do we'll be here to fill you in!