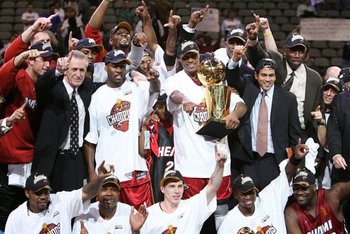 The Miami Heat return to the scene of their greatest moment of glory ever, the American Airlines Center (NOT Arena), where they dispatched the Dallas Mavericks four straight games to win it all on their home floor in Game 6.
As far as the regular season goes? The Heat currently have lost 12 straight regular season games against the Mavs and have only won once in 14 attempts with Dwyane Wade. Miami have lost 18 of the last 20 regular-season meetings and nine of their last 10 regular-season visits to Dallas. It's too bad about those 4 straight playoff losses, right Mark Cuban?
Online betting sites don't have much faith that the Heat will pull off the victory against Dallas given their lackluster win over one of the league's weaker teams the Philadelphia 76ers the night before and the three-game losing streak preceding that game. Quite a difference from before the season, right?
Mr. Cuban, still bitter about losing his only chance at a ring (and losing out to LeBron James?), is relishing the Heat's uneven start to the regular season: "Hallelujah, boys, is that great or what? How cool is that? Now, they could still turn it around and win out for all that matters, but you're starting to see some of the problems. Any team with a strong, big guy that can score, they're getting abused by. They just don't have size to battle. They have the fewest points in the paint of any team and that's tough. My buddy Dan Gilbert is smiling all the way, too. Again, it's early in the season and you never quite know how it's going to play out, but how glorious."
The Mavs have won 4 straight games after ending the San Antonio Spurs' 12-game winning streak last night 103-94.
Expect former Mavs center Erick Dampier to get his first minutes playing for the Heat. Joel Anthony had a nice game against the Philadelphia 76ers but the Mavs height advantage has traditionally given Miami problems.
Chris Bosh on how special it is returning to play in his hometown of Dallas: "No, not really. It's just more ticket requests and texts and all that. I'm past that. When you get the bill from paying for those tickets it's kind of different. I didn't see the bill when I was a rookie."
Guard Rodrigue Beaubois (foot) is out for the Mavericks. Udonis Haslem and Mike Miller are out for the Heat but you knew that already.
Heat starters:
Carlos Arroyo, Dwyane Wade, LeBron James, Chris Bosh, Zydrunas Ilgauskas
Mavs starters:
Jason Kidd, DeShawn Stevenson, Caron Butler, Dirk Nowitzki, Tyson Chandler
Location: 8:30 p.m., American Airlines Center, Dallas TX.
TV -
Sun Sports
Radio -
WAXY (790-AM), WQBA (1140-AM, Spanish)