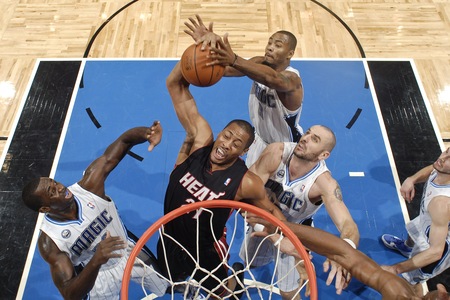 Funny, I thought Orlando Magic general manager Otis Smith was more of a "
competitor
". According to
Steve Kyler of Hoopsworld
, Smith has now resorted to initiating talks with their division rivals for the fourth center on their depth chart Jamaal Magloire in the aftermath of their huge trades with the Washington Wizards and Phoenix Suns. Because they traded away their backup center Marcin Gortat, the Magic are hurting for another big man to back up Dwight Howard.
The Magic have made inquiries to the Knicks regarding Ronny Turiaf, the 76ers concerning Tony Battie, the Bobcats concerning Nazr Mohammed, and the HEAT concerning Jamaal Magloire, but have found little interest. Sources close to the situation say there was at least a passing dialogue concerning a Jason Williams for Magloire swap, but that the HEAT didn't seem overly interested even if the Magic tossed in a second-round pick. Sources close to the thinking said Orlando is highly unlikely to use their Traded Player Exception unless it's part of a bigger deal that moves off salary, so the Magic's trade options are now tied to the three or four players they'd be open to trading; there isn't much of a market for Daniel Orton, Jason Williams, Chris Duhon and Quentin Richardson. The Magic's lack of progress on finding a reserve big is not based on effort, rather a limited interest in what the Magic have to sell.
Coincidentally enough, Jason Williams was ejected in the November 24th game between the two teams for throwing a ball at Magloire's head after playing a whole 41 seconds. Since appearing in every game last season, Williams has only been sparingly used this season (as has Magloire). The fact that the Heat don't appear to be interested in having their championship-winning point guard returning isn't surprising when remembering that the Heat looked the other way when Williams was available this summer and reportedly interested in a reunion in Miami, preferring to stick with Carlos Arroyo and Mario Chalmers.