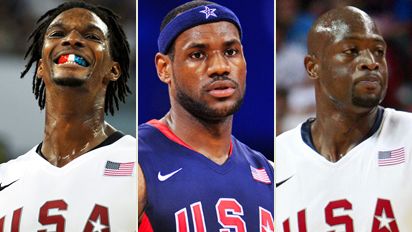 It's a beautiful day here in Miami. Literally and figuratively. Soon the world will know what LeBron's decision is and even though rumors can be misleading, usually the last ones right before news hits are always the most accurate. LeBron James is ready to announce it. Only a few hours now before the truth. A flurry of reports are swirling around LeBron and Miami in the last few hours. Here is the latest...
From the Sun-Sentinel
:
The overwhelming consensus among league executives is that Cleveland Cavaliers free-agent forward LeBron James is coming to South Florida to become a member of the Miami Heat. An NBA team executive told the Sun Sentinel Thursday afternoon, "All of our contacts from CAA say he is coming to you guys." CAA is Creative Artists Agency, the firm that not only represents James, but also Heat guard Dwyane Wade and Toronto Raptors free-agent power forward Chris Bosh, who on Wednesday agreed to sign with the Heat.
US Magazine
has a very interesting report about Lebron's plans for this weekend:
LeBron James has rented six cabanas at the W Hotel South Beach this weekend to celebrate his team decision, two sources confirm to UsMagazine.com. That adds more fuel to the fire that James, 25, will announce he's joining the Miami Heat Thursday night, as several insiders told ESPN this morning. (He's still confirmed to attend NBA star Carmelo Anthony's Saturday-night wedding to former MTV VJ LaLa Vazquez in NYC.)
A four-team trade to trade away Beasley is being discussd
as reported by ESPN
:
Sources say that a four-team trade scenario between the Heat, Raptors, Bobcats and Rockets hatched on the eve of LeBron's hour-long "Decision" special on ESPN would enable Toronto to bring back an asset or two in the wake of Chris Bosh's departure but also avoid taking back Beasley. Which is believed to be the only sort of sign-and-trade that the Raptors would consider. The proposed deal, sources said, would send Beasley and Rockets forward Jared Jeffries to Charlotte, land Bobcats center Tyson Chandler in Houston and create sufficient cap space for Heat president Pat Riley to offer max-contract money to Dwyane Wade, Chris Bosh and James. The Heat and Raptors engaged in discussions for several hours after Bosh and Wade announced that they were committing to Miami in a package about the various sign-and-trade options. Discussions were serious enough Wednesday night, according to two sources, that Heat officials told Beasley to start preparing to relocate. One source with knowledge of Toronto's thinking, however, insists that the four-team trade -- which would require Houston to send at least $3.1 million in salary to the Raptors -- is "not happening." Toronto continues to convey the message that it is a reluctant partner in any deal that makes Bosh's departure more lucrative. But another source close to the process told ESPN.com on Thursday afternoon that Charlotte is highly motivated to acquire Beasley, which would undoubtedly encourage Miami -- which has been struggling to find a team willing to gamble on Beasley because of his off-court baggage -- to keep pressing for the trade to be consummated.
Season tickets are being snapped up at such a pace that the Heat can't take any more orders for now.
From ESPN
:
Season-ticket sales for the coming Heat season were suspended Thursday afternoon after the entire supply of available seats sold out. That doesn't mean all 19,600 seats are gone for the 41 home games. Not every seat has been released for sale and some will be held back for single-game purchases. By mid-afternoon, a message was posted on the Heat website inviting fans to call the team ticket office directly for purchase-related questions. Earlier Thursday, season packages were available starting at $4,300, and the auction sites like eBay had some packages offered for as much as $18,500. The Heat declined comment, although it's expected that on Friday -- whether James picks Miami or not -- more tickets will be available. Heat fans have been encouraged to buy them for months, even getting told during in-game announcements last season that prices would go up as the 2010-11 campaign drew nearer.
On a side note and to remind Miami that we've already won in free agency, Chris Bosh who is our newest member of the Miami Heat has updated his
website
with this special message for Heat fans:
I'd like to take this opportunity to introduce myself. My name is Chris. I'm 6'10", born in Hutchins Texas and I'll do whatever it takes to get a championship. I really think that this is the beginning of something very special. The Miami Heat organization and the South Florida fans all seem to have the exact same winning mentality which is in part what helped me make the most difficult decision of my life. I really feel like this is the start of something big and I look forward to getting to know you. Thank you for welcoming me Miami, we can't wait to kick things off in November.
Can you feel the heat, Miami? Or is that a better question for the rest of the NBA?