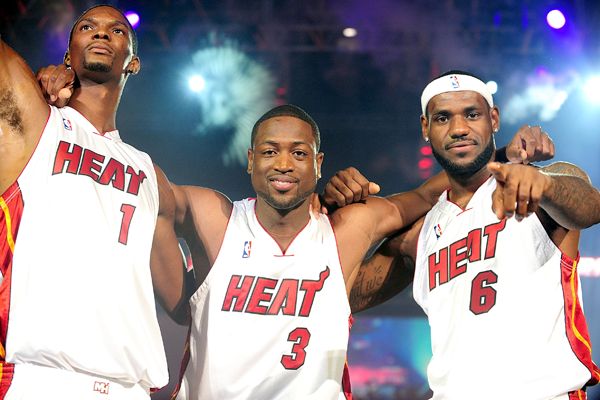 ESPN continued their month-long Summer Forecast series in anticipation of the start of the NBA season with 5 burning questions devoted to the new-look Miami Heat. Almost a hundred basketball experts and SportsNation were polled and half the TrueHoop Network answered the call to attempt to answer them. My answers are exclusively included here along with a selection of the more interesting ones from my peers along with the poll results. Click on the links for the complete original articles and feel free to take a stab at these questions yourself in the comments.
Miami Heat: Whose team is it?
NBA experts say:
Dwyane Wade: 44% James/Wade/Bosh: 22% Pat Riley: 17% LeBron James: 13% Micky Arison: 4% Fans: 0%
ESPN SportsNation says:
Dwyane Wade: 65% James/Wade/Bosh: 11% Pat Riley: 9% LeBron James: 12% None of the above: 3%
Kevin Arnovitz, TrueHoop:
Pat Riley's team. Riley conceived and constructed this team, and assumed the risks involved in doing so.
Dan Feldman, Piston Powered:
James/Wade/Bosh's team. James and Bosh don't care whose team it is. Wade does -- and he wants it to be all three's. So, that's what it will be.
Brett Hainline, Queen City Hoops:
Dwyane Wade's team. It was his when he won a title alongside the Big Aristotle, it will be his when he wins a title beside the Big High Schooler and the Big Hanger-on.
Bret LaGree, Hoopinion:
LeBron James' team. Great as Dwyane Wade is, LeBron James scores more often, scores more efficiently, earns more assists, grabs more rebounds, and is three years younger. If the Heat don't become LeBron's team, something will have gone terribly wrong.
Benjamin Polk, A Wolf Among Wolves:
If you mean, "Whose personality will the team reflect?" or "Who will be the Heat's spiritual center?" then I'd say Wade. If you mean, "Who should touch the ball on every single possession?" then LeBron. If you mean, "Which of these people is a billionaire and owns every single person on the floor?" then it's Micky Arison.
Ryan Schwan, Hornets247:
Riley's team. The team still isn't complete, and won't be until next year when Riley will be responsible for landing another contributor or two to make it deadly. Riley still controls the ultimate destiny of the team, and will control it even more so after the team fails in the playoffs this season, prompting him to push Erik Spoelstra aside and ride in to save the day -- along with an acquisition or two.
Me:
It's everyone's team and it's no one's team. That's why we watch and that's why the athletes want all the glory. Some championship teams are led by a singular force of superstardom like Kobe and Jordan with a solid supporting cast. Then there are the other teams like the Pistons and Spurs that have won rings with more balanced squads. The Heat should appear to be more like the latter but they're a unique team in that they now have two superstars
and
an All-Star in their prime that have all been used to being the face of their franchises their entire career.
Will LeBron average a triple-double during the next six seasons?
NBA experts say:
Yes: 28% No: 72%
ESPN SportsNation says:
Yes: 27% No: 73%
Dan Feldman, Piston Powered:
No. The Heat won't play fast enough for LeBron to match Oscar Robertson, whose Cincinnati Royals played at a faster pace than any team in today's NBA.
Rahat Huq, Red94:
No. But for his sake, I hope he does, because nothing short of such a feat would repair his tarnished image after a summer that has been a complete and utter disaster from a PR standpoint.
Rasheed Malek, Warriors World:
Yes. LeBron's assist totals will benefit greatly from having teammates who can finish off his passes. If the Heat dedicate themselves to a faster pace of play, LeBron will put up ungodly numbers.
Ryan Schwan, Hornets247:
No. It will be hard to average double-figure assists with half his fellow starters completely unfamiliar with the idea of scoring off the ball and/or spotting up.
Michael Schwartz, Valley Of The Suns:
It all depends on pace. If the Heat open things up, LeBron will be the new Big O.
Jeremy Wagner, Roundball Mining Company:
Absolutely not. If he could not do it in Cleveland when he was the only playmaker on the team, how will he do it in Miami with Wade eating up his passing opportunities? I am also not sold that he will feel the need to mix things up inside night in and night out to average double-digit boards.
Royce Young, Daily Thunder:
No. Averaging a triple-double would probably require some level of individualism from LeBron where he goes only after a personal goal. Well, after writing it that way, maybe he
will
average a triple-double...
Me:
No. But he should be able to maintain most of his career averages in Miami and hover around 25 points, 7 rebounds and 7 assists every year.
Most games the Heat will win in a single season during the next six seasons?
NBA experts say:
0-49: 0% 50-59: 3% 60-64: 22% 65-69: 49% 70-72: 22% 73+: 4%
ESPN SportsNation says:
0-59: 6% 60-64: 18% 65-69: 43% 70-72: 18% 73+: 14%
(Actually, one person believes the Heat with Bosh, Wade and LeBron together will only win 45 games and he is
Daryl Morey of the Houston Rockets
)
Kevin Arnovitz, TrueHoop:
65-69. Not record-breaking, but a healthy sum. The Heat are likely to be far enough ahead of the field late in the season to have the luxury to rest the big guns, something that might cost them a win or two.
Spencer Hall, Salt City Hoops:
60-64. The Heat will certainly have several 60-win seasons, but 72 wins won't happen. The target is firmly attached, and road arenas will be packed with hostile crowds. There is also low probability that all three will remain healthy, considering their histories. Talent will carry them far, but 72-win seasons require a special mentality that I don't see in this team.
Bret LaGree, Hoopinion:
65-69. This team will be judged in the present and by history on the number of NBA championships it wins. Unless winning those rings begins to bore them, I doubt they'll devote their energy to staging a run at the single-season wins record.
Matt McHale, By The Horns:
I think that 70-72 and even 73 or more are both possible. But Wade, LeBron and Bosh would have to wear themselves down playing a lot of minutes to make it happen. I think titles are more important to them (and Riley) than regular-season win records. But I could be wrong.
Benjamin Polk, A Wolf Among Wolves:
65-69. If they really mesh on both ends of the floor and make destroying the entire league during the regular season their first priority, they could win 70. But I think the season is too long and hard, the rest of the league is too good, and the Heat are too measured and shrewd for that to happen.
Timothy Varner, 48 Minutes of Hell:
73 or more. The Heat will only get better as they add MLE quality players to their roster. Assuming, of course, there is such a thing as the MLE this time next year.
Kyle Weidie, Truth About It:
They may get to 70, but they won't top the '95-96 Bulls. Quietly, a lot of teams/players are perturbed by the Miami super team ... the Heat will have a bigger target on their back than the NBA champs.
Me:
65-69. It might not happen this season or next as LeBron has learned from his time with the Cavs that having the best regular season record doesn't ultimately matter if you don't take care of your home court in the playoffs. Though they are younger than the Celtics, the Heat would be wise to emulate their success last season by keeping the trio fresh and healthy for winning 16 postseason games.
How many NBA titles will the Heat win during the next six seasons?
NBA experts say:
0: 4% 1: 14% 2: 40% 3: 31% 4: 8% 5: 3% 6: 0%
ESPN SportsNation says:
0: 12% 1: 17% 2: 30% 3: 23% 4 or more: 18%
Kevin Arnovitz, TrueHoop:
Three. Though they're likely to be the odds-on favorite entering the season for the foreseeable future, even a 1:1 morning line means they're unlikely to top three over six seasons.
Dan Feldman, Piston Powered:
Two. Two titles in six years is pretty impressive, but that might mean this group is judged a failure. I don't think that would be fair.
Spencer Hall, Salt City Hoops:
One. It seems unimaginable that LeBron could finish his career without winning a title, but I don't foresee a dynasty. Talent will probably bring at least one championship trophy to South Beach, but no more.
Rahat Huq, Red94:
Three. I'll go with three just because I don't feel Wade has many more elite years left in his body at his size and with his playing style. More importantly, my selection of three titles in six years is probably on the conservative end, which speaks volumes to the absurdity of this amassment of talent.
Bret LaGree, Hoopinion:
Three. If healthy, they'll be the preseason favorite every year. But the rest of the league isn't going to concede. And until there's a new CBA, we won't know how well (or if) the team will be able to make future adjustments to its roster.
Zarar Siddiqi, Raptors Republic:
Zero. Chris Bosh's bum knee will cause him to miss games, and there will always be better teams, even though they might not have stars.
Carey Smith, Philadunkia:
One. Only if Kobe retires in the next six years.
Royce Young, Daily Thunder:
One. Talent alone is never enough to win. And while the Heat definitely have more of it than anyone else, it will take complementary pieces and the perfect storm for it to happen. Just like with any championship in any sport.
Me:
Three. This one is tricky. How will a new CBA affect the Heat's chances to improve the team over the years? Will the three play out the duration of their contracts? We already know they won't have many draft picks and they won't draft very high either. Will they be savvy in the draft like the 80's Lakers and the 00's Spurs were by plucking foreign prospects or take chances on unheralded collegiate players?
LeBron, Wade, Bosh signing in Miami: Good or bad for NBA?
NBA experts say:
Yes: 80% No: 20%
ESPN SportsNation says:
Yes: 59% No: 41%
Kevin Arnovitz, TrueHoop:
Good for the NBA. The assembly of talent in Miami and all the noise surrounding it has made the NBA a 12-month affair. That's good for business.
Dan Feldman, Piston Powered:
Good for the NBA. If the Heat win, they will be heroes. If they lose, they will be villains and the team that beats them will the hero. Either way, the NBA gets a hero to market.
Brett Hainline, Queen City Hoops:
Good for the NBA. It's brought a level of awareness back to the league that it has missed since MJ retired -- where even my (fill in the blank non-sports-fan friend/relative/spouse) has heard about the trio and has an opinion on LeBron's decision. Casual interest can become something greater, so it's a start.
Rahat Huq, Red94:
Good for the NBA. I really fail to grasp this notion that for a league bordering on irrelevance to the casual American, something of this sort could be anything but "good. " Seems to be just the latest example of the age-old case of anti-labor sentiment force-fed down from the very top.
Benjamin Polk, A Wolf Among Wolves:
Bad for the NBA. Mostly bad, I think. To me, the past few years have been something of an NBA golden age, with lots of interesting, idiosyncratic teams playing really fun, competitive basketball. I worry that this heralds a return of the juggernauts and the drab inevitability that comes with it.
Kyle Weidie, Truth About It:
Good, because it probably drives home the need for parity to be an even larger part of new CBA discussions. But bad if the NBA just becomes collusion amongst the best markets and best players to form more super teams.
Me:
Hmmm. Let me sleep on that one.