Today's Miami Heat practice is missing Carlos Arroyo which means he's been cut in favor of Mike Bibby, with Jamaal Magloire apparently safe for now to continue wearing his suits to games. No official announcement has been made but Hot Hot Hoops will pass along any information as soon as we get it.
Update #2: The Heat have indeed cut Arroyo and have just sent out this press release:
MIAMI, FL – The Miami HEAT announced today that they have requested waivers on guard Carlos Arroyo. "This was a very difficult decision to make because Carlos has done a great job for this team and this organization," said HEAT President Pat Riley. "He is truly a first class individual and professional. We wish him nothing but the best." Arroyo, a 6'2", 200-pound guard, appeared in 121 games (77 starts) over two seasons with the HEAT averaging 5.9 points, 2.7 assists, 1.7 rebounds and 21.3 minutes while shooting 46.8 percent from the field, 39.3 percent from three-point range and 83.2 percent from the foul line. Arroyo originally signed with Miami as a free agent on October 12, 2009.
Update: Michael Lee of the Washington Post has confirmed that Bibby is heading to Miami.
Mike Bibby's agent, David Falk, just confirmed that his client will sign with MIA when he clears waivers.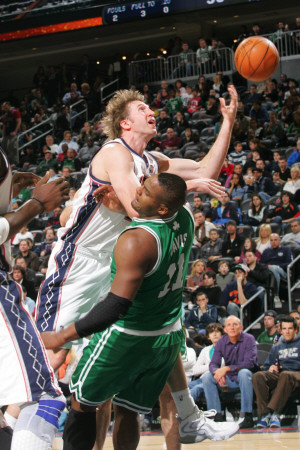 In other news, ESPN's Marc Stein is reporting that forward Troy Murphy has decided to sign with the Boston Celtics.
The news is certainly a blow to the Heat, who could have used his outside shooting touch and his rebounding, but the significant departure of Kendrick Perkins via trade to the Oklahoma City Thunder is still a net loss should the two teams meet in the playoffs. Perkins was a player that the Heat didn't really have an answer for and Murphy will not replace all the intangibles, mainly his defensive toughness, that he gave to the Celtics. An interesting side note: ESPN also reminds us that Troy Murphy has played in more games (639) than any other active player without appearing in the playoffs. Also, Marc J Spears and Adrian Wojnarowski erroneously reported on Twitter right around the same time Stein broke the news that Murphy was signing with the Heat. Later, those tweets were deleted and the two claimed that Murphy's agent Dan Fegan was to blame for the mix-up over text messages. Way to go there.
Today is the last day in which players can be playoff-eligible if they are bought out by their original teams. This doesn't mean they need to sign with a new team today because such players can be signed all the way up to the final game of the regular season, as can players who have not yet played this season in the NBA.