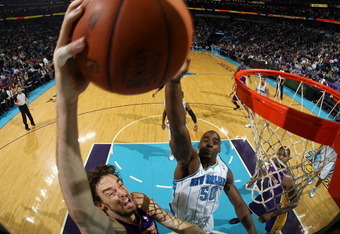 Just in time for the playoffs, it's time to test those fantasy skills you've been honing all season long and actually win some money for once instead of just bragging rights over your rivals.

We've partnered up with with the good folks over at Draft Street to give you a chance to win a prize pool worth $150 among Hot Hot Hoops readers and it's completely free to join.

The challenge will take place on Thursday (4/21) with Chicago Bulls vs Indiana Pacers game and on Friday (4/22) where Los Angeles Lakers host the New Orleans Hornets.

Here are the simple rules:


1. You have a $100k salary cap to build your team.
2. You pick 8 players (2 guards, 2 forwards, 2 centers and 2 utility) to fill your roster.
3. You get points for your players' stats during the game(s).
4. $150 prize pool split for top 5 spots.




So what are you waiting for? Head on over to Draft Street and sign up now. I got my team already on there with Lamar Odom, Danny Granger, Kobe Bryant, Derrick Rose, Joakim Noah, Andrew Bynum, Keith Bogans and Jarrett Jack.

See you there.