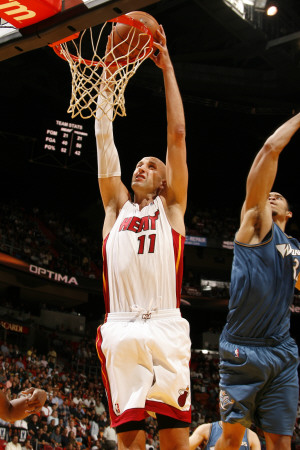 Just before the owners and players association met for possibly the most important bargaining session to determine whether the 2011-12 regular season will start on time, Pat Riley found out that he may not have the logjam of centers he had last year.
After one season with the Miami Heat, Zydrunas Ilgauskas retired. He previously opted-in to the final year of a two-year contract with the Heat at the veteran's minimum salary, but said that he still was considering his options. Ilgauskas told the Cleveland Plain-Dealer that he had endured enough of the physical wear to call it quits.
One-third of Miami's 15-man rotation was devoted to the center position last year. That rotation, typically mentioned as one of the Heat's weaknesses, may take a significantly different make-up next season. In addition to Ilgauskas' retirement, Erick Dampier and Jamaal Magloire are free agents. From the second round of the playoffs onward, Erik Spoelstra used Joel Anthony as the lone center in the rotation, with Chris Bosh and Udonis Haslem frequently spending time there. Miami's defense became more predicated on speed, eliminating the need for players like Ilgauskas or Dampier.
Once the lockout ends, Riley has to address how to retool his center rotation. Will he make few changes and encourage Spoelstra to give Haslem and Bosh substantial time at the five? Will second-year center Dexter Pittman finally get a chance? Riley said in March that the Heat need a big man, and possible targets include Samuel Dalembert and Eddy Curry.