With a growing sense emerging that the Orlando Magic plan to keep Dwight Howard past the March 15 trade deadline, the league's best center could hit the free agent market this summer, just as LeBron James, Dwyane Wade and others did in 2010. Sports Illustrated's Chris Mannix tweeted today that if Howard becomes a free agent this summer, he would have interest in joining the Los Angeles Clippers and Miami Heat.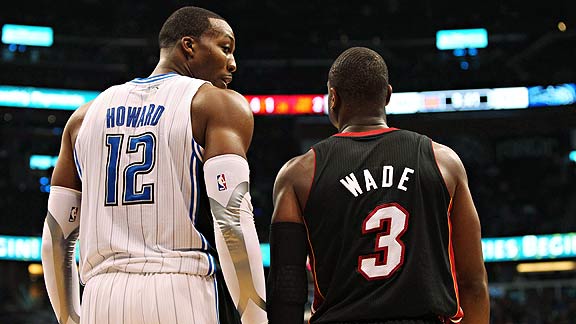 If Mannix's sources are right, Howard must have apparently changed his mind from this past summer, when he said that he'd "never" join the Heat. In any case, getting Howard to wear a Heat uniform would be quite the challenge, even for Pat Riley. As a luxury tax-paying team, Miami will only have the mini mid-level exception of a three years, $9 million to offer free agents in the offseason. The Heat signed Shane Battier with that contract in December, so don't bet on the six-time All-Star taking it as well.
It's not even as simple as just using the amnesty clause on Chris Bosh's contract, either. The Heat already have $77.322 million committed in salary for next year, and amnestying Bosh would only bring it down to about $59.77 million. The NBA's soft salary cap is set at $58 million this year, so the Heat could only offer Howard a mid-level exception of five years and $20 million. The three-time Defensive Player of the Year will almost certainly want more than that.
The only feasible way for the Heat to acquire Howard would be through a sign-and-trade, likely consisting of a Bosh-for-Howard swap. Howard is the best center in the league, but trading Wade or James to get him would only fill one hole and create another. If the Heat fail to win the championship this year, Riley may call Magic General Manager Otis Smith with that offer. But other teams may put together better offers for Howard. Essentially, the chances of Howard coming to the Heat are miniscule.
ESPN's Marc Stein reported on another center that is a longshot to join the Heat – Chris Kaman. Stein said that Miami would stand as the clear favorite if the Hornets can't trade the 2010 All-Star by Thursday's deadline and decide to buy him out. But Stein said that the Hornets ownership – led by NBA Commissioner David Stern – remains opposed to buying out Kaman's expiring contract if he isn't traded.
Don't expect any significant re-tooling with the roster before the playoffs. The Heat may bring in someone as an insurance big man, but Miami will probably end up having to address the lack of quality depth up front in the 2012 NBA Draft.