UPDATE: ESPN's Marc Stein reported Tuesday afternoon that Derek Fisher is in advanced negotiations with the Oklahoma City Thunder. Earlier Tuesday, Stein said that the Heat and Thunder had emerged as the frontrunners for Fisher. LeBron James said that he would fit well in Miami.
Stein said that the Heat are hopeful of signing fellow former Los Angeles Laker Ronny Turiaf. Turiaf is expected to make a decision by Wednesday, with the Heat and Celtics competing for his services. [END OF UPDATE]
Veteran point guard Derek Fisher has agreed to a buyout with the Houston Rockets and will clear waivers Wednesday afternoon. So naturally, once ESPN's Marc Stein tweeted that the five-time champion was hoping to sign with the Bulls or the Heat, the issue became whether either team would pursue him. While the answer to that question will become apparent sometime before Friday's buyout deadline, I expect Miami to pass on Fisher. Here's why.

For one, the Heat's point guard rotation is eminently improved over previous years' duos. Last season, the Heat acquired Mike Bibby at the deadline to help cover up the glaring shortcomings of the Mario Chalmers/Carlos Arroyo combination. It made sense at the time, as Bibby had shot 44 percent on threes in 56 games with the Hawks prior to being traded to and bought out by the Wizards. Chalmers was still a couple months away from his impressive Finals series and the Heat's brass was understandably wary of trusting someone who was only connecting on 36 percent of his threes. There was no downside to the move, since Bibby was definitely an upgrade over Arroyo and possibly Chalmers, too. Bibby even played well for the rest of the regular season before struggling throughout the playoffs while Chalmers played well enough to earn a multi-year deal from Miami in the offseason. The Bibby Experiment didn't turn out as everyone had hoped but, at the time, there was no reason not to try it. The circumstances have changed in Miami, however.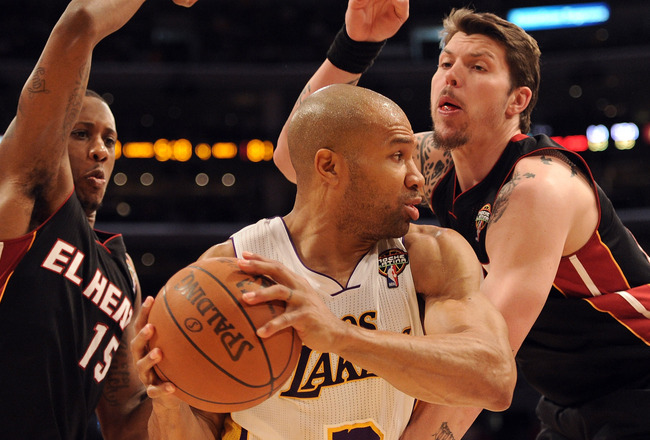 Unfortunately for Fisher, there is no such uncertainly about Chalmers anymore. The four-year veteran has had a breakout year, shooting 48 percent from the field and 43 percent from beyond the arc. His true shooting percentage (FG% which takes threes and free throws into account) is higher than those of LeBron James and Kevin Durant. Cameos by Evil Rio -- Chalmers' turnover-prone alter ego -- have become the exception rather than the norm. Playing point guard for this Heat team often boils down to standing alone and shooting uncontested threes, and Chalmers has become far better at this than Fisher currently is. Rookie Norris Cole has also done an admirable job as a change-of-pace backup. Cole constantly teeters on the edge of being out of control offensively, but his aggressive tempo and feisty on-ball defense give the Heat added dimensions that were not on the roster last year. His jumper and shot selection need work, but Cole's strengths are Chalmers' weaknesses and vice versa. Adding Fisher as anything but an insurance policy -- it's unknown whether he would be content in such a role -- would cut into Cole's minutes and development; and despite Cole's warts, he's probably a more effective player than Fisher at this stage of both players' careers. Fisher has posted single-digit PERs for the past three seasons and is shooting just 32 percent from three-point range this season.

Miami's frontcourt is not good. It's not bad, either, but if pieces are going to be added to the roster, those pieces should satisfy a minimum height requirement of 6'9. That's because after Chris Bosh, the Heat's power rotation consists of Joel Anthony (a decent niche player who struggles with Chicago and Orlando's size), Udonis Haslem (an undersized four who may or may not be finally breaking out of the worst season of his nine-year career), Juwan Howard (not going to pile on, seems like a great guy), and the diminishing prospects of Dexter Pittman and Eddy Curry. Bosh is an excellent player, but without him this would be arguably the worst collection of frontcourt talent in the NBA. Even with Bosh, Miami ranks 18th in the league in both offensive and defensive rebounding. The Heat can't create second chance opportunities for themselves and too often give their opponents extra possessions. Not exactly a recipe for playoff success.

My point in harping on the Heat's lack of frontcourt depth is that acquiring Fisher would do nothing to solve their deficiencies. Team president Pat Riley told since-exiled center Mickael Gladness that the Heat would be leaving his roster spot open for a potential buyout pickup, and that spot remains open today. Rasheed Wallace has worked out, Francisco Elson rumors persist, and J.J. Hickson and Ronny Turiaf were waived recently. The Heat's roster is so barren up front that the presence of any of those four would immediately upgrade the talent pool at a position of need. Derek Fisher, meanwhile, would not.