A is for Andre
This week Andre Dawkins shot his way onto Miami's roster. The former Duke guard known predominantly as a shooter will be aiming to fill the void James Jones and Ray Allen left if he can earn minutes in the rotation.
B is for Bosh
No longer the sidekick, Chris Bosh has now reached the era of leadership. While he spent the past four years finding himself moving farther away from the basket, he will now be the go-to scorer while carrying the majority of on-court responsibility. Expect him to relish this coming season.
C is for Chris "Birdman" Andersen
D is for Deng
I could've had "D is for Dwyane Wade" but the alphabet is long and I've still got a way to go. The day Miami acquired Deng was one of triumph. Set to rejuvenate his career, at times in the preseason Deng looked dangerous and could end up providing some lethal two-man play with Wade and/or McRoberts in the half court.
E is for Ennis
A preview if you will:
F is for Forgotten
For the first time in years, Miami has been cast aside, disparaged and given no further consideration. This, in turn, makes any form of dominance in the competition surprisingly satisfying. After all, they are meant to be under the bottom of the heap and anything above that is simply a win.
G is for Granger
Back on media day, Danny Granger talked about how Jamal Crawford was selling him on the idea of being a Sixth Man. Apparently, Crawford was telling him how great it is to be a primary scoring option with the second unit. You get to take as many shots as you want and you don't really have as much pressure as you're used to having. While Granger certainly wont have the same freedom that Crawford has with the Clippers, watching him grow into this new role should be exciting.
H is for Haslem
Oh you already know...
I is for Team
As we all know, there is no "i" in the word "team." There certainly won't be with this Heat roster either. That's not to say there was in the previous four seasons, but they always had that one certain someone there to bail them out. Now it has to be a team effort every night, even more so than the championship days. That's how you build continuity.
J is for Josh
McRoberts didn't play in the preseason with his new team and he's inactive to begin the season. However, McBob suited up for 78 games last season with Charlotte so we should expect a fairly full season out of him. A dangerous shooter from deep, in time McRoberts will demonstrate what Riley and Spo saw in him.
K is for Keeping the faith
I know it's been rough. The team/organization/fan base has had some tough months, but together helped each other get through it. Miami got Deng, kept Bosh and now we all get to say Heat Lifer all of the time as a unifying chant. That creates a fun community and basketball experience for everybody throughout the entire season.
L is for Layup
Let's layup!
M is for Mario
Mario, Mario, wherefore art thou Mario? There has been no better time suited for Rio. While we don't know if this reprised role will lead to him thriving as a leader/contributor, if he comes out firing early, he could just be the answer we've been waiting for at the point guard position.
N is for Norris
A beloved player with pace and skills to sink from deep, Norris Cole can be a pleasure to watch:
O is for Opportunities
The bench is wide open; almost everybody on the roster will get to earn a chance at regular minutes. This results in true competition, which should quickly weed out the players who don't belong on the court.
P is for Playoffs
This time it's with a twist. No longer the predictable journey to the ECF, this time every regular season game will count for Miami, which makes for excited viewing.
Q is for Questions
Who will have earned to be starting point guard come April? Will Granger make an impact or will he be obsolete? What starting lineup will we have Christmas Day? It's anyone's for the taking.
R is for Rejuvenating
The initial carnage LeBron James left behind sparked a rebuilding process and over time Erik Spoelstra and Pat Riley managed to turn around a dismantled roster and mold it into a competitive one. With new challenges and new faces, this team can now avoid looking stale.
S is for Shabazz
Already becoming a fan favorite, Shabazz Napier has shown glimpses of his potential. With only a handful of preseason games under his belt, Napier showcased his offensive drive and intelligence for the game. A great player to have on the roster.
T is for Teaching
There are new additions and revised roles to the coaching staff. Assistants like Juwan Howard, Keith Smart and Chris Quinn and others will all be learning their new roles much like Spoelstra and David Fizdale once had to do. Fizdale should be a prime coaching candidate for teams in the near future, so soaking up his knowledge and understanding is paramount for the new coaches.
U is for Unpredictable
In a time where a teams winning potential can change in an instance, be it due to a trade or an injury, for the Heat we simply have no idea how this team will pan out. With most experts picking them to finish in the top four, anything below the eight would be a disappointing. On a positive, if things don't go as predicted for the Cavs and Bulls, then it's possible the Heat could just find themselves in the ECF for a fifth consecutive year.
V is for Vivica
Vivica cut through sharks with a sword just like Wade and Deng will cut through the defense for easy buckets.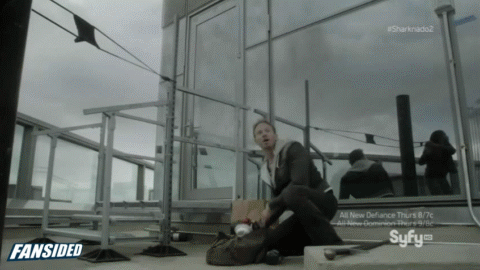 W is for Wade
This is HIS house:
X is for X-Factor
With James Ennis and Shabazz Napier having thrilling moments in the preseason, both are set to shine if and when they're given the opportunity. Ennis is a gem and has grown from his time overseas and joining back up with the Heat this summer. This season is bound to bring out the best in the small forward. Young players like this can be the difference between injecting life into the second unit and fizzling out when the stars are off the court. Speaking of young players...
Y is for Youth
Last year it wasn't the Spurs who were the oldest; it was Miami. Now with the additions of some bright young stars (their 2013-14 average age was 30.6), the potential is building.
Z is for Zzzzzz
I'm tired and soon you will be too. If living in Miami hasn't already starved you of sleep, games tipping off as late as 10:30 ET and being in the Eastern time zone will. Either way, you should expect to drink a lot more (Cuban) coffee.