The Miami Heat were slotted to make the #26 pick in Thursday's NBA Draft. However, there were rumors ahead of the draft that Shabazz Napier was the player Miami most wanted to acquire. Napier was expected to be picked earlier and, in fact, he was selected by the Charlotte Hornets with the 24th pick. Miami made a trade with the Hornets and, without giving up a major asset, were able to acquire Napier.
Why would Miami make the move? If you're not familiar with Napier's style at UCONN, here are some highlights, courtesy of DraftExpress:
Napier fits a mold that Heat President Pat Riley has long held as the standard for his draft selections - he's proven, mature and capable. He has national championship experience (like Heat free agent, Mario Chalmers). He's also a great shooter (nearly 47% from 3-point range) and a creative scorer that finishes well in traffic. He can create shots for teammates and is a good passer. His athleticism is average but he's deceptive and a decent ball-handler. He represents a likely upgrade over other Heat point guards Norris Cole and Toney Douglas, at least offensively. Defensively, he needs work overall but he's projected to be an adequate defender in the NBA.
Ultimately, he seems like a good pick but let's not forget the real reason why Napier was selected by the Heat:
My favorite player in the draft! #Napier

—

LeBron James

(@KingJames) June 27, 2014
As an added bonus, Miami fans were treated to this wonderfully candid reaction by noted Heat critic, Bill Simmons (via Page Q):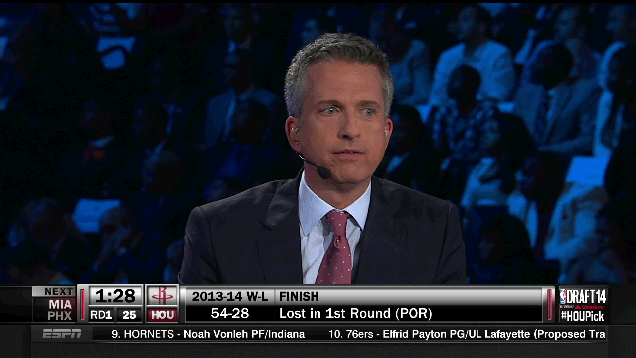 That alone might have made the pick worth it.